We can help to relieve:
Back pain
Headaches
Neck pain
Shoulder pain
Hip and knee pain
We can also help you to:
Reduce stress and tension
Improve muscle flexibility
Greater relaxation
Breakdown scar tissue
Prevent injury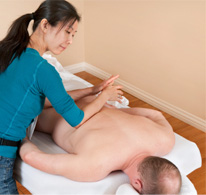 Chiropractic is a regulated health profession in the United Kingdom, concerned with the diagnosis, treatment and prevention of mechanical disorders of the musculoskeletal system and the effects of these disorders on the function of both the nervous system and general health.
By restoring normal function to the musculoskeletal system chiropractors can play a major part in creating a feeling of wellness and relieving disorders and any accompanying pain or discomfort arising from accidents, stress, lack of exercise, poor posture, illness and the every day wear and tear.
At The Farnham Chiropractic Clinic you will receive a friendly welcome and the very best care and treatment from our highly trained team.

What's that pain?
Our interactive Symptom Checker will help identify your problem

Need an appointment?
Call us today on: 01252 710549